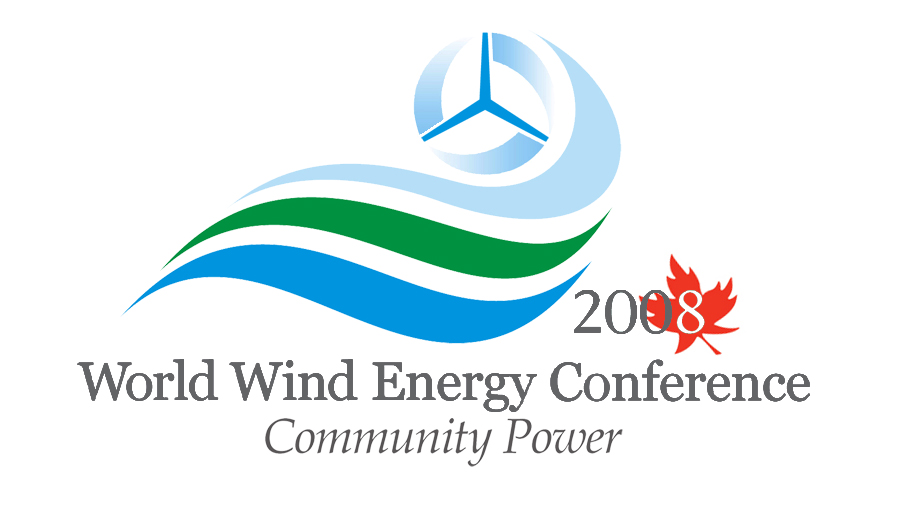 To all participants, delegates, presenters and members of the WWEC2008 and the greater Community Power Community including students, faculty, staff and board at OSEA, WWEA and SLC


Dear friends and colleagues:
I very much appreciate the huge amount of feedback I have received from everywhere but particularly from students. It is great that you are sharing the positive feeling and energy with most of the 800 participants, delegates, volunteers and hosts. This has been an extraordinary event. Somehow people for a change did not focus on the negative but on the positive opportunities.
St. Lawrence Colleges could not shine as a five star convention center but fared extremely well as a seven star community college. Everybody felt at home at SLC in one global community. We all felt secure and well looked after including a wholesome and delicious food, good shelter and wonderful music. Together with 5 Ontario Ministers and the President of the Canadian Parliament / Speaker of the House of Commons Peter Milliken who all whole heartily joined the strong commitment to a better and sustainable future. On Friday Following these outstanding activities the Minister of Research and Innovation the Hon. John Wilkinson and I hosted a round table to sum up the opportunities moving forward. We were joined by the Hon. John Garretson Minister of the Environment and 14 world leaders in renewable energy policy making. The inspiring discussion did bring out that there is a feeling of the World and very much including Ontario having been mislead in the past but that here is an openness to listen to people or countries that have made a successful transition and change.
We all at one time believed that the large energy providers of this World have the competence and ownership of introducing the long overdue change. We have all found that our trust in their ability has been in vain or at least ignored. We are in a situation were we must find better ways as some leading countries already have done. I mentioned the example that if we want to introduce real change we can not expect the very people that have been preventing change to lead this transition. It may be a bad example but is like asking criminals to design a legal framework against crime and also lead the implementation.
However that does not mean we do not want to include the big energy providers in the discussion and also consider their perspective. But is has to be in a way that we together will create a community based pathway to a sustainable future. Many huge monopolists have showcased their lack of leadership and their tendency to misuse the power for too long that we can ignore this. I encourage the Ontario Government to use a strong new broom to clean the filth of the past and let companies like Hydro One become what they should be a jewel and a customer oriented clean provider for efficient, healthy and sustainable energy. The future can and should include and inspire all to be part of a peaceful revolution towards a renewable or new energy age. The oil and coal age is already history and finished and not worth fighting any more wars over.
It was inspiring to see the passion and listen to the Ministers John Gerretsen, Donna Cansfield and Leona Dombrowsky when they articulated a united
pathway to a sustainable future and it was particularly uplifting to listen to the Deputy Premier the Hon. George Smitherman first public speech as the newly appointed Minister of Energy and Infrastructure. He is open to anything and willing to act. That sounds promising and if we support him properly in this huge undertaking I am certain that he and the strong united Government of Ontario under Dalton McGuinty leadership will succeed in finding the right way. A planned visit to Germany and Denmark will be very helpful and the partnership offer by the German Ministry of the Environment and Nuclear Safety promises great progress and outcomes. The round table hosted by the Minister of Research and Innovation John Wilkinson on the Friday following directly the conference was an eye opener and great conclusion. The 14 world leaders together with Ministers John Wilkinson and John Gerretsen who also was able to join the discussion was another encouragement to move forward with optimism and a clear set of goals.
Community Power was well presented by leaders like Herman Albers. Nobody but him could demonstrate a successful movement better, he is himself being a farmer and the president of the largest Wind Energy Association in Germany a real community power group, largest on Earth representing 20.000 members, who have build 25.000 MW of RE electricity capacity to be doubled to 50.000 MW by 2020.
Our own tireless environmental Troubadour of the "Nature of Things" David Suzuki and the Architect of the European Feed Inn Tariffs and alternative Nobel Prize winner Dr. Hermann Scheer lead our choir of community power by articulating powerful messages to the world. The Napanee High school students and tireless inventors, designers and developers of an innovative solar powered Sterling engine who did compare well with world leaders demonstrated community power at its best and real hope for a bright future in Ontario and elsewhere. A large delegation from China and India lead a strong presentation from 60 small and large evolving countries. It was very rewarding to see how all these groups of different nationalities and cultures
where united around our Theme Music and Song "Community Power, Energy and Love" Helmut Lipsky, Suzie LeBlanc and their international colleagues
did present this very powerful and energizing music specially composed for the event in a unforgettable way. Sometime in the early fall this music will be available and can be ordered via OSEA or Helmut Lipskys webpage.
Finally I want to mention that several documentary films were created during the WWEC2008 and the one hour Documentary "Winds of Change" that is building on the Napanee High school students stunning inspiration will be the center of my next commitment. I am planning to present this at 100 high-schools in Eastern Ontario between September and early next year and with the help of 100 student ambassadors across our great country we will spread the peaceful revolution of the "Winds of Change" through additional thousands of high schools and this way reach a few million young people in North America. My generation and the following generations have not done very well in preserving our environment. The young people, our future leaders will certainly do much better and eventually make us proud of how they succeeded in supporting the long overdue turnaround to a sustainable future. On a personal note my next long range mission will center on our home and "The One House Revolution" showcasing how an individual can make a difference and create a self sufficient home in a economic feasible way for the average family. Starting this fall I will open our home to the public, including schools and students, once a week and also demonstrate how viable a small indoor winter garden can be.
As a small present and symbol from my colleagues Dale Dolan from OSEA and Stefan Gsaenger from the WWEA and my appreciation to have been of an important service I include the lyrics and the logo of the Theme Song. "Community Power, Energy and Love"
May the great Spirit be with you at all times and guide you towards a peaceful and sustainable future!.
If we can be of any service do not hesitate to contact us.
Best personal greetings!
Volker
Some of the exceptional press coverage has been scanned and will be forwarded to you in portions during the next few days.
In addition to this we did get a great National and International coverage of TV and Radio.
WWEC 2008 media coverage from The Kingston Whig-Standard Newspaper
Dr. David Suzuki Keynote Speaker at WWEC 2008 ~media coverage


Volker Thomsen
Executive Chair World Wind Energy Conference 2008                                                                    Executive Chair of numerous World Conferences and Events
Founding Vice President World Wind Energy Institute                                                                         Chair Thomsen Foundation for a Sustainable Future                                                                           Founding inaugurator of LIFE Bangladesh "Learning by Playing
President & CEO, Retired. St. Lawrence College                                                                             Now Living and Volunteer Work in Lübeck-Travemünde Germany                                                                volker.thomsen@gmail.com Tel.: *49 4502 845  Cell: +49 176 9973 4909