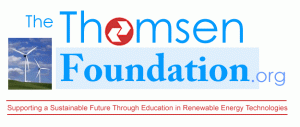 Thomsen Foundation for a Sustainable Future has the mandate to raise funds and provide scholarships to less fortunate young people for training, education and international exchange in the area of the renewable energy technology and in achieving enhanced intercultural appreciation and development of a sustainable world.
The Foundation is engaged in various activities in the renewable energy field. The focus is on supporting skills training and technical hands-on education of specialized technicians and engineers for sustainable energy solutions. It is crucial for the development and implementation of the renewable energy technology to have enough well-trained technicians and engineers to achieve the expected reduction of our ecological footprint and to increase the economical value of our natural resources.
A joint project with the students of the Energy System Engineering Technician program at the St. Lawrence College to convert a traditional residential house into energy self-contained home was in the past years a worthwhile project that was successful and took on great shape. Electricity from solar PV an Solar thermal from the  roof, indoor in the winter garden and outdoor for organic gardening are just the starting point of the "One House Revolution®". The house employs a world pilot of AE Atmospheric Energy (warm and cold injection and storage in the ground) see: http://volkerthomsen.com/ae-atmospheric-energy-storage-system/
Thomsen Foundation works with many small and large organizations like :
WWEA, World Wind Energy Association  Bonn (this is the only organization where I because of my role as volunteer VP and Treasurer have close links and inside knowledge of the present programs,goals and  activities).
Bangladesh Public-Private-Consortium for a sustainable Education System,
Green Innovation and leadership in Implementation of these.
WWEI, World Wind Energy Institute DK
BZEE, Buildungszentrum fuer Eneuerbare Energie DE
WCRE, World Council for Renewable Energy DE
Folkecenter for Renewable Energy DK
OSEA, Ontario Sustainable Energy Association CDN
For more information please feel free to contact Volker Thomsen at volker.thomsen@gmail.com or
foundation@volkerthomsen.com.